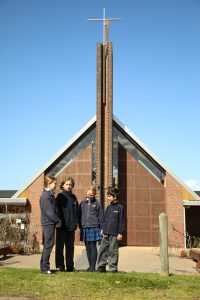 Lakes Entrance became a Parish in 1953….
The first parish priest, Fr. Ward was keen to develop a Catholic School in his new parish but knew that obtaining sisters to teach there would prove very difficult. Nonetheless, in 1955, he proceeded with building a three-classroom 'school' with movable partitions that could be used as a hall as well.
This building was on the Church Street property next to the school and convent (now the site of Safeway).
St Brendan's school opened on 4th of February 1958 with an enrolment of 57 students. The first principal was Sr. Julian Eymard O'Donnell RSJ. The Josephite Sisters administered the school from 1958 to mid 1990's.
St Brendan's is presently still served by the Josephite order, and the school models  the Josephite commitments of service to the poor, and outreach to those in need. The school sees itself very strongly involved in the local community, availing its facilities to a number of community groups.
In January of 1978 the wooden church was destroyed by fire, and it was decided to move the complex to the 7.3 hectare property at the east end of town. The church was blessed and opened on December 14th 1980. Father John Shanley PP (1972-2006) played a major role in the planning and development of the school buildings and grounds. The original school building was officially opened on November 28th 1982. Further classroom buildings were opened in 1992, 1994 and the library in 1999.
Refurbishment of original school, administration areas and room 13-16 have been completed over recent years.
In 2011 the new basketball stadium, "Mary MacKillop Centre" and the adventure playground were officially opened by Bishop Christopher Prowse.
Our church, opened in December 1980 has undergone significant refurbishment.
Our buildings began a refurbishment phase in 2018 and by the end of 2020, every child was situated in a new flexible-learning space.